PACE Teams Up with Suzy The Curious Snail To Support Cognitive Learning
PACE Canada, in partnership with Marjorie Straw, author of the Amazon Best-Selling book Suzy The Curious Snail: Explores the Garden, is pleased to announce our 2-for-1 deal. Give the gift of reading and support literacy and numeracy in Basic Schools .
The funds raised from the bulk sales of the book, Suzy The Curious Snail: Explores the Garden, will be used to purchase additional OneTab educational devices for the Early Childhood Schools in Jamaica.
About the Book
This book is breathing new life into the minds of curious young readers. Suzy takes readers on an exciting and informative adventure with her indomitable and curious spirit that leads her into different adventures. She has a strong bond with her mom and a community that looks out for her. Suzy's curiosity teaches young kids to be bold, and courageous, and not to have limiting beliefs.
Suzy the Curious Snail is a fun, easily digested book that both parents and children can enjoy. Straw believes children should be encouraged to be curious and to explore their world, learning and growing as they do so. "I have a special interest in introducing cognitive learning in Early Childhood Education." She stresses that all proceeds from the book will support PACE Canada's project to deliver OneTab educational devices to Jamaica.
About the Author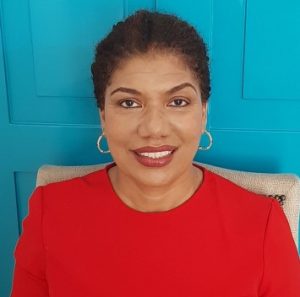 Marjorie Straw is the programme director for the Global Services Sector (GSS) Project executed by Jampro in collaboration with the Inter-American Development Bank. Now, Straw, a powerful woman in Jamaica's corporate workforce, has expanded her role beyond projects to help parents facilitate conversations with their children about being bold and unlocking the power of limitless thinking.
Born in Kingston, Jamaica, but having spent several of her childhood years in the parish of St. Mary, Marjorie Straw benefited and experienced firsthand, the joys of living in a community where everyone looked out for each other, especially children. Carefree moments by the river, or at the standpipe with friends led to idyllic moments and strong bonds. Suzy the Curious Snail represents the creative side of the author who herself, escapes into Suzy's world and joins her on her adventures.
About the Devices
These onetab devices are developed by onebillion.org to provide reading, writing and numeracy in one simple package, and delivers onecourse modules without Internet connections, and the optional solar charger does not require an electrical outlet. Switch it on, and it's ready to go.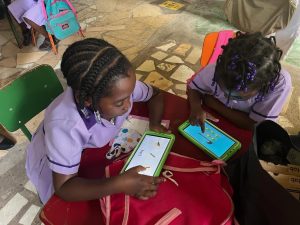 Onecourse lessons are created uniquely for each child, based on their level, using a pool of thousands of learning units, giving both structured learning and exploratory play opportunities each day. Once a child has finished their 40-minute lesson, the onetab can be seamlessly passed to the next child and using adaptive learning, automatically adjusts to the child's level without any need to login. Therefore, lots of children can share the same device.
Onetest module is included on the devices, and provides a rapid digital assessment that gives a snapshot of a child's level in literacy and numeracy. It gives both an overall score and scores for individual subskills in literacy and numeracy.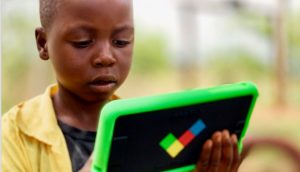 Ultimately though, onetest is for the child. When key stakeholders can rapidly determine children's literacy and numeracy levels, appropriate action can be taken to make a change that will improve children' learning outcomes as soon as possible.
The goal of onetest is to bring positive change for the child and their learning outcomes, by identifying which interventions are working, whether that's on a national level or within a single classroom.
Promote the gift of reading by purchasing copies of the book in bulk and distributing them within the local community, or arranging with PACE  for their distribution within Jamaica.
email address is: marjoriestrawbooks@gmail.com
Links to social media:
LinkedIn: https://www.linkedin.com/in/marjorie-straw-pmp-7758751a/
IG: @marjoriestraw, @suzythecurioussnail