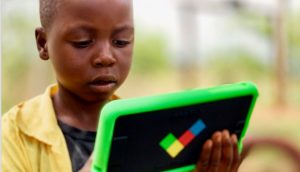 In February 2021 PACE Canada launched the "One Tablet per Child" campaign to purchase at least 10 tablets for each of the 250 Early Childhood schools that PACE supports across the island. These 5-6 year old students need the ability to continue their learning and lessons at home until schools are again open for operations.
What progress has been made as of September 2021?
We were informed by the onebillion foundation that a supply of 1,000 tablets is now available and PACE has agreed to purchase and ship them to Jamaica directly from the manufacturer in China. We are currently in negotiations with the shipping agent to find the most expeditious means of delivering them to Jamaica. Diana has been in contact with the ECC and NET in Jamaica to make them aware of the pending delivery so that they can be cleared through customs and distributed to the schools as quickly as possible. Further updates will be provided once the shipping has been finalized.
Has PACE Canada seen these devices?
Yes, we have been provided with 5 of the devices and some of them have been loaned to Early Childhood Education team at George Brown College.
Now that these 1,000 devices have been acquired is that the end of the project?
The project is far from completion. This initial shipment represents only 40% of our goal. We need to continue our efforts to raise the funds for another 1,500 devices.
How has the ECC in Jamaica been involved?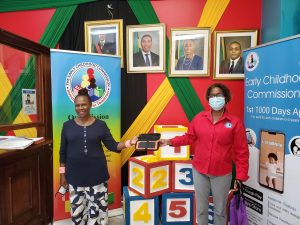 The ECC have reviewed the devices and the feedback was very positive: "We looked at the video and we love the tablet! We particularly love the fact that it's not configurable by others, and no other applications can be installed. Also, making the content available offline will be great for most of our children who are without internet access.  We thank you so much!"
On a recent trip to Jamaica, PACE member Majorie Angel Brown, delivered one of the tablets to Karlene Deslandes, Director of the ECC in Jamaica so that they could do their own evaluation of the devices.
What exactly is the "One Tablet Per Child" Project
Together  with the Early Childhood Commission (ECC) in Jamaica, and the onebillion foundation we plan to raise $320,000 so that we can purchase at least 2,500 tablets. A fully configured device costs about $125 CA.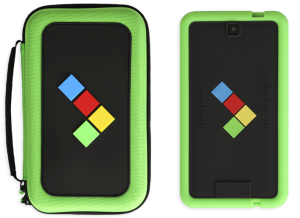 The onetab device was designed and developed by the onebillion foundation, and is a robust, dedicated tablet designed to deliver reading, writing and numeracy in the child's own language – anywhere. onetab comes in a durable protective case with an optional solar charger, thereby eliminating the need to rely on access to an electrical outlet. It boots straight into onecourse, in the correct language.
We know these tablets will also be beneficial for the parents of our students to provide assistance with assignments. The window of opportunity is short so now is the time to support this urgent campaign.
How can I learn more about the features of the device and course modules?
The onebillion foundation has produced a handbook that provides a lot of information about the course modules. Use the link below to get a copy of the handbook. The section below has screen image of some of the course modules.

Which schools and students in Jamaica will get these devices?
PACE promotes early childhood education with a special focus on children of pre-school age in situations of racial, cultural or economic disadvantage.
In the rural mountains of Jamaica, PACE found early on that children come to schools without electricity, without telecommunications and without even the colored felt pens North American children take for granted.  How will they take their place in an increasingly borderless and electronic world?  How will they be equipped to ensure their economic and cultural future?  This has now been made more difficult by the COVID-19 pandemic which has closed schools and kids need to learn at home.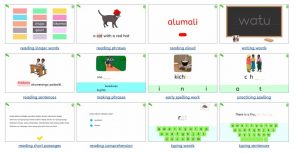 This campaign is intended to seek financial support for PACE's continued effort to ensure many of these children have access to technology in their home schooling which is necessary to prepare them for the future and today's global electronic world.
P.A.C.E. is seeking funding to purchase at least 10 tablets for each of the 250 kindergarten schools supported across the island.  This will allow each of the 5-6 year old students to use the device at home and have access to their lessons and learning software.
In addition to making a financial contribution, you can help by telling your family, friends and colleagues about this special appeal:
Send them an email with a link to this page "www.pacecanada.org/one-tablet"
Download the image on this page and include it with the email
Also post the image on your social media pages (Facebook, Instagram, Twitter)
Follow us on social media and interact with our posts (Like, Share, Comment)