GROUND BROKEN FOR CONSTRUCTION OF SAM SHARPE TEACHERS' COLLEGE INFANT SCHOOL AND DIAGNOSTIC CENTRE
Gro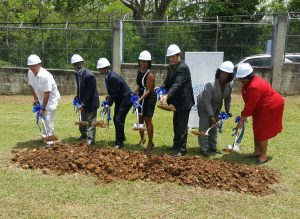 und was broken on Wednesday April 5, 2017 for the construction of an Infant School and Diagnostic Centre at the Sam Sharpe Teachers' College in St James.
Construction of the facility has started and is schedule to be completed within nine (9) months.
The National Education Trust (NET), the Project Managers, officially handed over the site to the contractor on March 22, 2017 for preparatory works ahead of the start of construction. Food for the Poor (FFP) is the contractor for the project with South's Woodcraft as sub-contractors.
The facility is being constructed under an MOU signed between FFP and the Ministry of Education, Youth and Information last year.
The Diagnostic Centre will include a three (3) Diagnostic Classrooms with observation Rooms, administrative area, computer laboratory/library, meeting/consultation room, a diagnostic play area and bathroom facilities for staff and students.
The Infant School will consist of two (2) Classrooms with associated Infant bathrooms, administrative area, staffroom and associated toilet facilities.
Funding for the project is being provided by the Government of Jamaica at a cost of J$62,050,140.00. FFP will be donating tiles for sections of the building along with p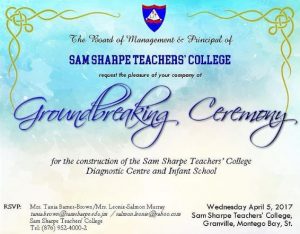 aint.
The Carpenters Union of Ontario donated CAN$108,500 through PACE Canada and this will be used to equip the facility upon completion.
Speaking at the ceremony, Director of Donor and Partner Relations at the National Education Trust, Latoya Harris noted that "the mandate of the National Education Trust is to expand investments in education through strategic partnerships. This facility will be a true example of partners coming together for the development of education".
The complex will be the first of its kind in the western end of the country and will go a far way in helping to diagnose children with special needs. It should help to ease the pressure on the only other similar centre in the country at the Mico University College.
Ms Harris appealed for the community to take ownership of the facility and make the most of it. "Protect it, look after it and even more importantly make full use of its services because unless we are able to effectively identify and treat our children with special needs, many more will continue to be left by the way side".