Congratulations to PACE supporter, Dr. Rosemary Moodie, on Senate Appointment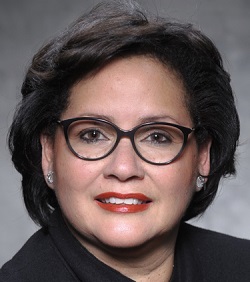 Dr. Rosemary Moodie, born and raised in Kingston, Jamaica, and a long-time supporter of PACE, was appointed to the Canadian Senate on December 12, 2018. Together with her husband and her son, they have adopted Fruitful Vale Basic School  and Bloomfield Basic School in Portland, Jamaica.
Dr. Moodie shares her health care expertise in the academic environment and in her community. She is a neonatologist, clinical teacher, and Associate Professor of Paediatrics affiliated with SickKids and the University of Toronto. She is a consultant in health care and a national surveyor with Accreditation Canada focused on advancing quality in health care.
Dr. Moodie is an advocate for women and girls, who has made significant contributions to reducing social inequities and health disparities among children and communities locally and internationally. She has done so by promoting public policy through organizational leadership, mentorship, and community volunteerism. She is on the Board of Directors for the inaugural board for Providence Healthcare, St. Joseph's Health Centre and St. Michael's Hospital, and the ScotiaBank Jamaica Foundation. She was the President and Board Chair of the YWCA Toronto when the Elm Centre – Canada's largest affordable housing project for single low-income women, women with mental health needs, and Indigenous women and their families – was completed.
Dr. Moodie has received many awards and distinctions, including: the Order of Distinction – Commander Rank from the Government of Jamaica; the Prix d'excellence – Specialist of the Year from the Royal College of Physicians and Surgeons of Canada; RBC's Top 25 Canadian Immigrant Award; and the City of Toronto's Constance E. Hamilton Award on the Status of Women, for securing equitable treatment for women.