In Loving Memory of Dr. Inez Elliston
Dr. Inez N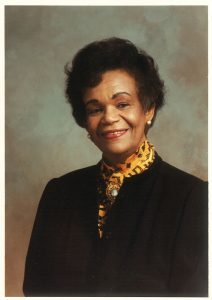 aomi Elliston, educator, author and community leader passed away peacefully on February 7th surrounded by her family and friends. Born in Jamaica, Dr. Elliston received a Bachelor of Arts degree and Diploma in Education from the University of London and the University of the West Indies. Inez completed a Masters degree in Education from Boston University in 1972, and in 1976 she was awarded a Masters and PhD in Education from the University of Toronto.
Over the past 40 years, Dr. Elliston has made significant contributions in the areas of multicultural education, anti-racism training, adult education and the delivery of equitable education policies through her work at the Ontario Ministry of Education. As the first Coordinator for Multiculturalism and Race Relations at the Scarborough Board of Education, Dr. Elliston was responsible for implementing equity-focused initiatives, including building the capacity of Ontario educators to work more effectively in diverse classroom settings. Dr. Elliston was highly respected among her colleagues and peers and was often sought after to serve on provincial and national committees addressing issues of citizenship and education. Some of her most noticeable contributions included playing key leadership roles in such organizations as the Canadian Council for Multicultural and Intercultural Education (CCMIE), The Canadian Council on Multicultural Health, the Ontario Multicultural Association multiculturelle de l'Ontario (OMAMO) and the Canadian Race Relations Foundation (CRRF).
Dr. Elliston's tireless efforts and commitment to the field of education earned her numerous awards, including outstanding achievement awards from CCMIE and the Jamaican Canadian Association, and a citation for Citizenship from the Ministry of Citizenship. In 1995, the Scarborough Board of Education established an anti-racist and ethno-cultural equity award in Dr. Elliston's name. Shortly after being awarded the Order of Ontario, the provinces' highest honor awarded to an individual who has demonstrated excellence in a given field, Dr. Elliston joined a team of distinguished advisors, appointed by the Premier of Ontario, to deliver recommendations on the future of higher education.
Dr. Eliston attended the very first P.A.C.E. Canada (Project for the Advancement of Childhood Education) event, a Toy Drive in 1987, and continued to be involved with the organization until her passing. Since 1999 she sponsored the Manchester Mile Gully Basic School in Manchester,  which had a name change in 2015 to the Sydney L. Blake Basic School. Dr. Elliston was an initial PATRON of PACE and represented the organization in various capacities such as at a Jamaica Diaspora Conference in Jamaica. In 2002, The Dr. Elliston Living Legacy Bursary Award (given on behalf of her family), provided $500  annually as a  Bursary for college Students enrolled in Early Childhood Education.
Dr. Elliston's generosity of spirit and tireless advocacy for immigrant children and children who are underserved, underrepresented and marginalized, are illustrative of the principles she held dear. Inez's passing leaves a void that is immeasurable. Her memory and legacy will live on in the many lives of those whom she touched and impacted over the years.
Inez is survived by her brothers, Lynval and Clinton, and sisters, Kathleen and Victoria. She will also be remembered by her nieces and nephews, living in Canada and abroad.
A celebration of Dr. Inez Elliston's life and work will be held on February 26, 2017 at 2:00pm at the Apple Creek Seventh-Day Adventist Church; 700 Apple Creek Blvd., Markham, ON. In lieu of flowers, the family asks that donations are made to the Latter Rain Seventh-Day Adventist Church Building Fund.