Obituary for Salome Miller
On behalf of PACE Canada we extend our sympathies and condolences to the family of Salome Miller on the recent loss of your mum.
Salome Miller was a member of PACE Canada since 2012 and a devoted sponsor of three Basic (kindergarten) Schools in Jamaica through our Adopt-A-School Program. These schools included:
ORACABESSA NEW TESTAMENT ECI, St.Mary (photo attached)
GRACE CHILDCARE & LEARNING CENTRE, St. Mary
MARANATHA BASIC SCHOOL, St.Andrew
Mr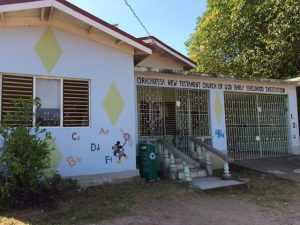 s.Miller also frequently visited the schools in Jamaica so was kept very aware of their many needs and their use of the funds that she donated. These schools regular send thank you notes and school photos to sponsors to show their appreciation for this support. Our records indicate that Mrs. Miller would have received such items.
We are truly sorry to lose such a dedicated sponsor of PACE Canada's efforts of Helping Young Children Succeed.
PACE Canada, a federally registered charitable organization, has been in operation since 1987 with a focus on early childhood education in Jamaica and Canada.  The organization supports over 300 kindergarten schools in Jamaica through a signature Adopt-A-School program which requires donations of a minimum of $365 annually to each sponsored school.  Other programs support bursaries to college student teachers in early childhood education, parent/teacher workshops in Toronto and Jamaica, and providing a gift box of educational items annually at Christmas time to select organizations in Toronto.