Honorary Doctorate for MaryAnne Chambers from Guelph University
As published by Ron Fanfair of Share, July6, 2017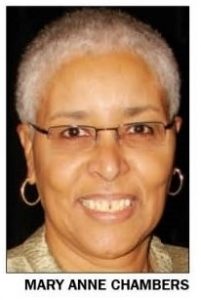 Just months after completing a six-year term as a member of the board of governors, former Ontario cabinet minister MaryAnne Chambers has been honoured with a doctor of laws degree at the University of Guelph's college of social & applied human sciences graduation ceremony.
The degree was awarded to recognize Chambers' long-standing commitment to the values of accessibility and inclusiveness in higher education and her desire to improve the circumstances ofyoung womenandracialized communities in Canada and around the world.
She was a member of the audit & risk management and the physical resources & property committees and chaired an adhoc working group on responsible investing created by the board of governors to help consider responsible investment policy and practices for the university's endowment fund.
In her convocation address, she encouraged the graduates to become more aware of the history and current reality of Canada's Indigenous peoples.
"Appreciate that the rest of us are either immigrants or descendants of immigrants fortunate to be on this land and recognize that markings on maps are man-made boundaries that become much less significant when stressed by human failings or when made irrelevant by human achievements and technologies that have global reach," said Chambers.
She also urged them to find and pursue their passion, do well, and use their lives to make this world a better place.
"I hope that you have acquired an appreciation of the importance of using your voice to speak about issues of fundamental social justice, especially when the 
voices of those most negatively impacted seem not to be heard," Chambers said. "I think that's a responsibility and an obligation that we must all embrace in order to achieve and protect the quality of life that we seek to enjoy, not just for ourselves, but for others also.
"Champion human rights, equity and diversity wherever and in whatever situations you happen to find yourselves, appreciate and encourage the right to advocate for fairness, cultivate initiatives and foster innovation and creativity, embrace thoughtful and informed risk-taking, celebrate self-awareness, assertiveness and self-esteem and nurture a sense of the possible."
Born and raised in Jamaica, Chambers was poised to study medicine at the University of Edinburgh when she met and married her husband more than four decades ago.
England's loss was Canada's gain as she has made remarkable contributions to her adopted homeland since migrating with her family in 1976.
A year after retiring as a Scotiabank senior vice-president, Chambers entered politics and served for nearly two years in the provincial government as Minister of Training, Colleges and Universities. In that role, she announced the largest multi-year investment in post-secondary education in four decades and introduced major improvements to student assistance policies and funding.
During her tenure, significant changes were also made to the Private Career Colleges Act to provide enhanced protection for students and increased support was made available to encourage apprenticeships in the skilled trades.
Chambers, who also served as Minister of Children and Youth Services before quitting politics a decade ago, is a former Canadian Club of Toronto president, Rouge Valley Health System governing council vice-chair, Air Cadet League of Canada govermor, Tropicana Community Service Organization board member, United Way of Greater Toronto trustee and a director of the 2008 Toronto Olympic Bid Corporation.
In 2007, she successfully lobbied for the University of Toronto Scarborough campus to engage in a tutoring and mentorship program with Grade Nine and Grade 10 area school students. Chambers also made a financial contribution when she left politics, described as a parting gift to the community, to help sustain the program run by the university's Black Students Association.
And as vice-chair of the U of T governing council, she participated on a task force on student financial support that led to the implementation of a policy that would ensure young people are not deterred from enrolling in the university because of inadequate financial resources.
Chambers is a former president of the Project for the Advancement of Childhood Education Canada (2010 to 2014) and chair of the York Centre for Education & Community advisory council. The centre is designed to support teaching and learning that's appropriate to students diverse needs, considerate of their cultural experiences and supportive of their aspirations.
She was appointed to the Order of Ontario two years ago.