PACE establishes a Mission 1988
After reading the article you can Play the Quiz with just 4 quick questions.
The visit of Mr. and Mrs. Grant to Toronto in June 1988 resulted in his endorsement of the plans put to him by PACE Canada. These proposals included a scholarship for teachers in the University of the West Indies degree program as well as provision of assistance for the university's experimental degree course development and evaluation.
PACE Canada has continued to support an annual scholarship award for early childhood teacher education through the University of the West Indies. This award was intended to honor D.R.B. Grant's pioneering contribution to community-based early childhood education.
The idea of school sponsorship emerged as the mission to be undertaken a by the membership here in Canada. It was decided that contributing to the school would have a multiplier effect, involving school and community rather than helping only one child by individual sponsorship. The idea of a dollar-per-day-per-year Adopt-a-School project was born and has grown as a focal point of the PACE project.
These pre-schools known as 'basic schools' in Jamaica were defined as community schools for children in the early years. It was clear that the schools were intended to provide more than babysitting. Young children from 3 to 5 years old were to learn primaries social skills as well as elements of literacy and numeracy in preparation for entry into primary school. These schools were providing for children of low or no income families.
T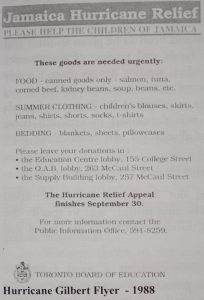 he tragedy of Hurricane Gilbert in September 1988 brought a tremendous outpouring of goods and generated goodwill from Canada to Jamaica. Community leaders came forward to assist with the relief effort. The PACE network was actively involved in organizing the Canada-wide response coordinated at the Jamaican Consulate. The Hurricane Gilbert Relief effort provided a significant stimulus for the later development of PACE as a registered charitable organization. The network of colleagues, friends, and contacts developed during this time served in good stead as the program took shape.
The idea of sponsoring a pre-school appealed to many PACE supporters in Canada. The organization had been publicizing this possibility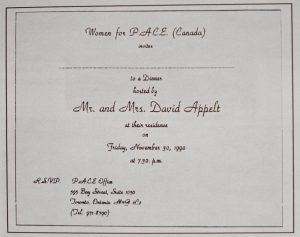 but was not in a position to act on it until Revenue Canada and granted charitable status to ensure accountability through the issuing of tax receipts. The organization succeeded in being registered by Revenue Canada on October 16, 1990.
To celebrate attainment of charitable status, a special dinner was hosted by patron Pamela Appelt and her husband David Appelt at their home on November 30, 1990.